Social and environmental loans support impact businesses with capital available on time for its operation.
Advantages
Below-market interest rates
Flexible conditions
SITAWI's expertise

The Social & Environmental Loan is a SITAWI's original product and has permitted us to offer more than R$ 3 million in loans at below-market interest rate in the amount of to 15 social organizations and impact businesses in diverse fields, including a social organization focusing on public health in São Paulo, a territorial development institute in Para, a impact business researching communities in Rio de Janeiro, an agricultural cooperative from Paraná and an environmental business focusing on sustainable building in the state of São Paulo.
SITAWI seeks out projects able to prove their positive social or environmental impact anywhere in Brazil and run either as for-profit or non-profit organizations. In order to be approved for a loan, the candidate must have the means to prove the social or environmental impact of the project and show ability to repay a loan, ethical commitment and management skills.
At SITAWI, we run two credit lines with similar conditions, but with differences in terms of business type, use of capital and scale.
| | |
| --- | --- |
| Social & Environmental Loan Fund | Family C Fund |
| Loans for working capital for amounts from R$50,000 up to R$70,000. SITAWI approves loans based on an evaluation by a committee of our peers. Generally, there is a fee for the evaluation of the business plan. The loan repayment is between 6 months and 3 years | Loan for larger amounts with an aim for significant long-term change through the expansion of a project or organization. The fund focuses on outstanding projects for which our capital can make a major difference. Consequently, the repayment period is often longer. |
In both cases there is a wide level of flexibility in terms, but all loans are made at the SELIC rate for periods over 6 months. SITAWI evaluates all loan applications according to a financial and socio-environmental analysis. We aim to complete this process as soon as possible, but our process takes an average of 3 months.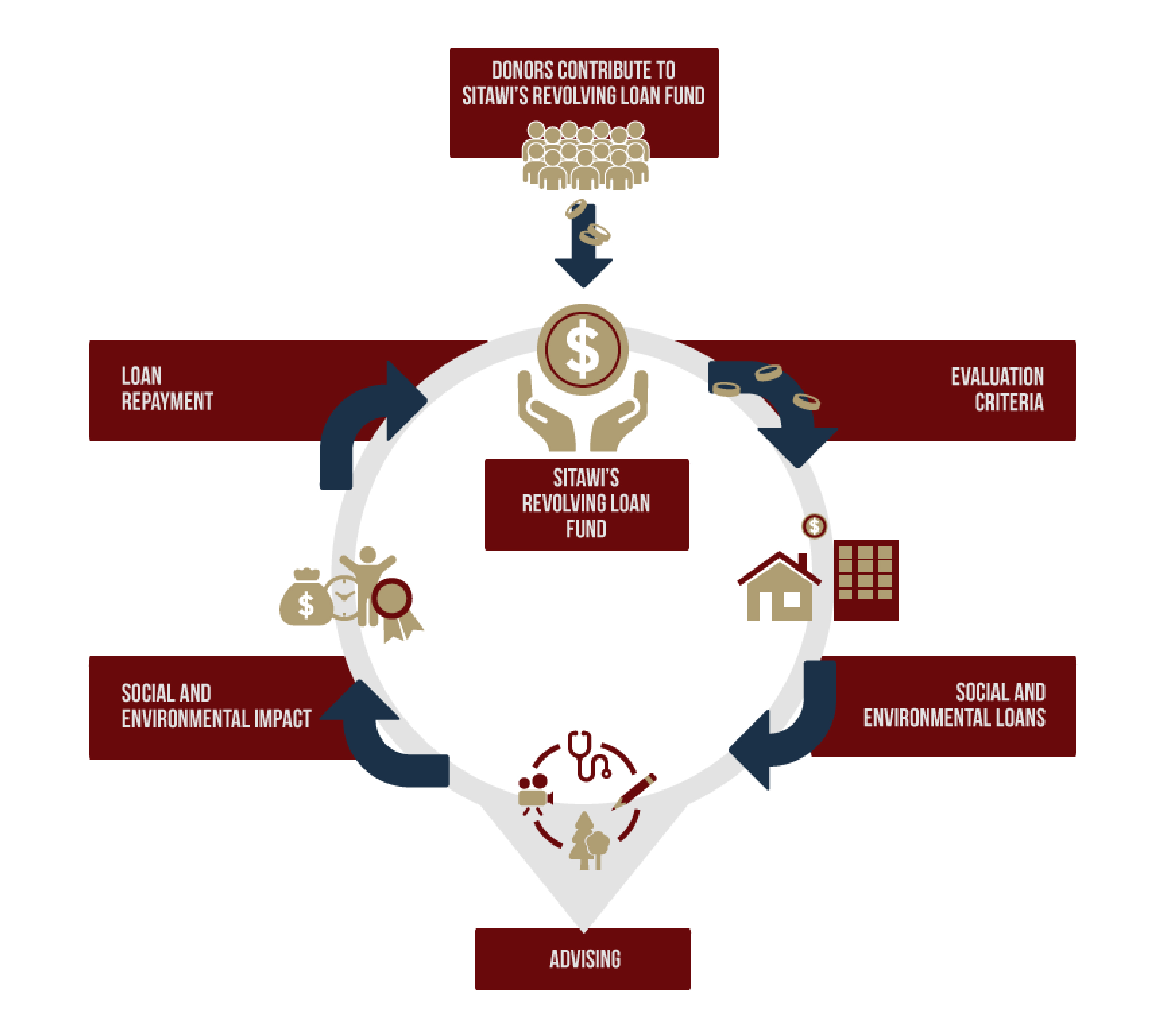 Inteceleri

Brazil currently ranks 63rd in the PISA, an examination carried out in 72 countries that evaluates 15-year-old students' performance in science, reading and mathematics. The low quality of education in Brazil is also reflected on the IDEB (Basic Education Development Index) score in 2015, which was 5.5 for the initial years of Primary Education and 4.2 for the final years of the Elementary School, on a scale of 0 to 10.




Founded in the state of Pará in 2013, Inteceleri is a technology company focused on creating projects, solutions and tools capable of helping change the way we teach mathematics in our country. With a multidisciplinary team focused on innovation, Inteceleri aims to help teachers teach and students learn mathematics in a faster, more stimulating, and more fun way. Inteceleri operates in selected stated in the North and Northeast of Brazil.




The company developed a teaching methodology supported by online gaming to help educators teach fundamental math concepts in an easy and fun way. This methodology helps eliminate barriers to learning by addressing the most common difficulties associated with learning math, and by helping teachers develop curriculum with students' routines and contexts in mind.

The challenge:

Difficulty in accessing the resources to develop a new geometry teaching tool, Geometricando.

The solution:

Inteceleri raised R$ 100,000 to develop of Geometricando, its new virtual reality tool that uses scenarios from Pará's state capital, Belém, to introduce geometry into the day-to-day lives of students. This product will meet the demand of students in grades above those currently served, and will expand the organization's projects and presence in these schools.
The capital came in the form of crowdlending, which is a collective loan. SITAWI led a closed fundraising process, along with other investors (all SITAWI supporters), which consolidated the first crowdlending for an impact business in Brazil.

The impact:

One of Inteceleri's main programs, Matematicando, has already benefited about 6,000 teachers and 90,000 students from public and private schools. As Google's official partner in deploying the Google for Education platform, Inteceleri will bring the Cardboard Glasses (from VR-Virtual Reality) and the Google Expedition platform to all states in the Northern region. Geometricando will come as an extension of the Matematicando product in schools and is currently under design.
4YOU2

A study by the Data Popular Research Institute for the British Council points out that 95% of the Brazilian population does not speak English*. Several factors help explain this number, including the high prices of language courses, poorly trained teachers, and business models that do not favor learning.

With that in mind, the entrepreneur Gustavo Fuga created 4YOU2, bringing an innovative model that combines foreign teachers, an adaptive methodology, and the lowest price in the market. The logic is simple: to bring together people who want to teach English and to learn about Brazilian culture and people who want to learn English and get to know different cultures.

The challenge:

In order to grow and improve service quality, 4YOU2 realized two things: the creation of new methodologies was imperative; and, in order to develop these new methodologies, it would need capital to invest in innovation.

The solution:

Financing of a loan in the amount of R$ 70 thousand, disbursed in August/2017, with the objective of implementing the development of the online methodology for the intermediate level. The expectation is that the implementation, in conjunction with a new management system, will provide higher quality teaching to students, greater control over information, higher efficiency in customer relations, and a reduction in operating costs.

The impact:

More than 10 thousand students, mostly from middle and low income families, have already been attended by the school. With the new system and greater frequency control, it will be possible to more accurately measure the length of time students spend in school. In the new model, classes are not chained and can be remarked, which helps in student retention.

In a satisfaction survey conducted with students in the 1st quarter of 2017, in a grade of 1 to 5, the students gave an average grade of 4.1 for the "Teaching Methodology", 3.9 for "My Learning", 4.2 for "Attendance of the pedagogical coordinators" and 4,5 for "teacher performance". 51% of the students answered that they chose 4YOU2 because of foreign teachers and 31% because of the low price. The school is creating in its new system ways of controlling and measuring the evolution of students throughout the course and length of stay. A next step is to measure whether learning English helps students achieve new or better jobs.
FEIRA PRETA

Feira Preta was created in 2002 by event manager Adriana Barbosa with the aim of spreading customs and traditions of black culture and promoting business of black community entrepreneurs. Its first edition was held in 2002 in Praça Benedito Calixto, in São Paulo, and had 40 exhibitors. In recent years, the Fair took place at the Anhembi Exhibition Pavilion and was attended by more than 100 exhibitors.

For the 14 previous editions of the event, more than 130 thousand people passed, which generated a revenue of ~$ 4.5 million for exhibitors. Approximately 500 artists and 600 Afro-Brazilian microentrepreneurs participated in the Fair, many of whom started their projects informally in past editions and now have companies formally incorporated. SITAWI already financed Feira Preta in 2011 and the repayment was made with the end of the event.

The challenge:

To organize the 15th edition of the Fair, in December 2016, there was a capital demand to finance the rental of the space, since the revenue of the Fair comes from sponsorships and tickets from the participants.

The solution:

Finance R$ 60,000 and disbursement of the total amount in September 2016. The loan was used mainly for the payment of the remaining 80% of the rental of the Pro-Magno space, location of Feira Preta in São Paulo.

The impact:

Generation of employment and income for the Afro-Brazilian population, besides the valorization of the black culture and promotion of the self-esteem of this population. In addition to Feira Preta, Adriana Barbosa created a project called Black Codes, a strategic consultancy focused on identifying and understanding communication codes for the Afro-Brazilian population, which attracted part of the fair's sponsorships, and has the potential to generate revenue for the organization throughout the year.
INSTITUTO ALPHA LUMEN

The Alpha Lumen Institute is a non-profit school, founded in 2013 in São José dos Campos, and aims to offer elementary education courses 1 and 2 and high school for high-skill students with an innovative methodology.

The official number of students with high skills in Brazil is 2,600, however, it is estimated that there are up to 10 million unidentified students with this profile in the country. Normally, schools, whether public or private, are not prepared to receive this student, who ends up being stigmatized or silenced.

Alpha Lumen has succeeded in welcoming and developing these young people so that they can reach their potential by acting as conscious leaders. The organization is a partner of the municipal education secretariat and has been recognized by various media for its rapid growth. In 2014 the Institute had 18 students, and in 2016 that number jumped to 231. The forecast is that in 2017 the number of students will reach 500.

The challenge:

Adapt the infrastructure to receive 180-250 new students in 2017.

The solution:

To finance a loan of R$ 60,000 in September 2016, so that the organization can anticipate the beginning of the works of adaptation of the infrastructure for the expected growth in 2017. Suggested repayment until February/2017, from the enrollments of the new students.

The impact:

Development of high ability students with different socioeconomic profiles, who would hardly adapt or have their potential developed in a regular school. Students are encouraged from early on to carry out projects with the community to transfer the acquired knowledge. With one of these projects, Robo Truck, they reached more than 8,000 public school students. Alpha Lumen high school students have been prominent in college competitions, as well as the case of a pair of 18-year-old entrepreneurs who have already received and investment of $1 million in their startup – Pagar.me – and was approved to study in Stanford, in the United States.
INOCAS

INOCAS (Innovative Oil and Carbon Solutions) is an organization in the region of Patos de Minas – Minas Gerais that aims to produce sustainable vegetable oil – from Macaúba tree – in partnership with family farmers, avoiding deforestation or changes in land use with the coexistence of agriculture in the same place.

The challenge:

Search for financing to start the activities of the company until the receipt of the first contribution in the company to be carried out at the end of September 2017.

The solution:

Disburse a loan in September/2016 with the objective of equalizing cash flow by the end of 2016.

The impact:

INOCAS is in the implementation phase, but its positive environmental impact potential was proven between 2011 and 2014 by the Leuphana University, in Germany. Currently, palm oil is the most widely used in the world and is the input to thousands of products from foods like margarines and ice cream to household cleaning products, hygiene and even fuel. However, palm planting is responsible for the conversion of large-scale forests in the tropics and extensive carbon emissions, contributing to global warming. The production of sustainable vegetable oil from Macaúba planted in Brazilian cerrado pastures can exceed and replace world palm production without overthrowing a single tree, generating reforestation and income for many people.
INOVA URBIS

Inova Urbis is a social business founded by Alban Drouet in February of 2014 that proposes solutions of constructions and reforms of houses at popular prices for low income population. The initial focus is on the community of Rocinha, in Rio de Janeiro, where it also has its headquarters.

The challenge:

The company needs working capital for a project with ADEO, a French group of home-based companies, represented in Brazil under the Leroy Merlin brand. There are plans for relationship and promotional marketing, market intelligence and training.

The solution:

R$ 50 thousand loan.

The impact:

In 2014, Inova Urbis made free pilot projects of architecture aiming at the renovation of 12 houses. As of October 2015, 53 surveys were completed and 25 completed projects. The goal of the project with ADEO is to carry out 100 mini-projects (of a room) in Rocinha. In 2016, Inova Urbis projects to carry out 360 projects from the loan made by SITAWI.
CIES
CIES's mission is to bring specialized health care to every community in a humanized and high-tech means through mobile health units.
SITAWI has provided the project 3 loans. The first one in 2011 was a R$ 200,000 working capital loan to increase the number of employees and restore a mobile health unit. This project directly benefited 15,840 in 2012.
For the second loan for R$ 50,000, SITAWI supported the establishment of Hora Certa, a program implemented by CIES and the Municipality of São Paulo aiming to create mobile health units in 3 regions of city to provide local communities with a number of medical exams, such as ultrasound, colonoscopy and endoscopy. As a result, CIES was able to increase its capacity and by 2014 could perform around 25,000 exams a month.
With the most recent loan in the end of 2014, CIES will be able to purchase a semitrailer truck for outdoor interventions and build a new facility in Vila Nova Manchester, in the east region of São Paulo. which will function a surgery, clinic, training center for nurses and supply new spaces for supplies, pharmacy and medical records. The goal is to provide surgery services to the region's residents and enhance CIES' ongoing work.

The challenge:

Lack of capital to invest in health facilities as part of the expansion program of Hora Certa and absence of working capital to ease the day-to-day management of a high-capacity program.

The solution:

R$ 1 million loan.

The impact:

Through Hora Cera program, CIES aims to reach 390,000 patients, providing a wide range of medical exams, surgeries and training 19500 health agents (physicians and nurses) in 2015. Besides, the new semitrailer truck will be able to reach 250 patients per day.
Coperjunho

The co-operative Coperativa Agroindustrial 8 de Junho (Coperjunho) began in a community kitchen headed by 4 women in 1997. In 2005 the group began to organize their activities and, in addition to growing food for domestic consumption, it began to deliver food to public schools through the Food Acquisition Program – PAA.

Currently, Coperjunho works with institutional projects (government programs), events, contracts with the Federal University of Fronteira Sul and a private school, in addition to sales at local markets in the region.

The challenge:

Coperjunho has problems with working capital, given that the government programs pay 60 to 90 days after delivery and the co-operatives needs to meet payroll as well as pay farmers within 30 days.

The solution:

A SITAWI social-environmental loan for R$ 75,000 to provide working capital to meet payroll, farmer payments and restructure debt.

Furthermore, the entrepreneurs can benefit from regular meetings with SITAWI to deal with the challenges of management control and strategic planning.

The impact:

Coperjunho's social and environmental impact occurs in two ways: in generating income for the rural settlers and producing organics as a large part of its produce. In terms of income generation for the settlers, the impact is direct. Small-scale farmers supply the cooperative, focusing on two main products: root and leaf vegetables.

Currently, this initiative provides 30 direct jobs and benefits more than 40 farming families indirectly from the sale of organic produce.
Ecoservice

Ecoservice is a B Corp that aims to reduce the environmental impact and carbon emissions of the construction industry in Sorocaba (São Paulo) and surroundings. The company sells sustainable technologies to its customers to reduce the consumption of drinking water and electricity or gas through solar heating systems, green roofing and the reuse of rainwater.

The challenge:

Lack of working capital with terms suitable for the business's phase of development.

The solution:

A SITAWI social-environmental loan for R$ 60,000 to decrease the company's dependency on commercial loans and allow more working capital for an expansion and in the environmental impact of their products.

The impact:

Through its sales, EcoService reduces environmental impacts of the construction industry. To date, there has been a decrease of 507 metric tons of CO2, 8480 m³ of water per year and a planted site of about 13372 m². http://www.a3s-ecoservice.com.br/
Instituto Peabiru

Founded in 1998 and based in Belém, Pará, the Instituto Peabiru is a Civil Society Organization in the Public Interest (OSCIP), devoted to Eastern Amazonia – Pará, Amapá e Maranhão. Its mission is to add value to cultural and environmental diversity and support the social development of Amazonia.

The challenge:

Lack of working capital for expenditure on projects, given that their agreements with funders do not permit pre-disbursement of funds for operations, working only under reimbursement scheme.

The solution:

SITAWI social loan in the amount of R$ 55,000 to cut down on pre-financing costs and increase both the organization's financial sustainability and project effectiveness. The organization will raise the level of support provided to 60 families working with native bees in the Island of Marajó.

The impact:

The ATER-Marajó Project is a 30-month program to assist 676 families in two Brazilian municipalities, Ponta de Pedras and Cachoeira do Arari, on the Island of Marajó- with extremely low municipal Human Development Indices. With the loan provided by SITAWI, the organization was able, on an ongoing basis, to carry out socioeconomic diagnosis, elaborate plans to participative social organization, develop agricultural activities and sell local products, including honey from native bees. http://peabiru.org.br/
Lar da Bênção Divina

Lar da Bênção Divina is a non-governmental organization established in 1956 that provides support to vulnerable communities around the Congonhas Airport, in São Paulo. Currently, it helps more than 300 families in need from the neighborhoods Coréia, Vila Inglesa e Vila Santa Catarina through 2 main projects: the Early Childhood Center (CEI) and the Child and Adolescent Centre (CCA).

Its business model is based on educational and cultural activities and the organization has several sources, including partnerships with the public sector and charitable events, while the organization's costs are mainly from personnel and services.

The challenge:

Its financial situation is volatile, given that it is highly dependent upon donations São Paulo Municipality stopped being its main revenue source in 2012, instead being the Regional Education Board of Santo Amaro instead. The rest of its revenue came from various donations that in 2014 made up 38% of its funding. However, the value of these donations has significantly decreased since 2012. Besides, the access to capital is restricted to lines of credit for individuals – directors of the organization and partners of Santa Fé Portfolios – an asset manager associated to Lar.

The solution:

Lar da Bênção Divina came to SITAWI seeking a bridge loan to support its operations for four months until its annual fundraising lunch, an event that provides about 20% of the organization's annual income. SITAWI granted the organization a social loan for R$ 75,000 in August 2015.

The impact:

The social impact of Lar occurs through its education program, whereby children, young adults and vulnerable populations in the surrounding of Congonhas Airport are introduced to music, culture and arts. By 2015, more than 2,3 million soups had been served, 2,789 children supported, 4,900 families assisted, with an average of 261 people a year.
www.bencaodivina.org.b
Mobile Metrix

Mobile Metrix is a non-profit organization founded 2010 that aims to gather data about populations at the base of the pyramid. They give voice to "invisible" people who live in segregated communities not included in traditional surveys and often forgotten in terms of employment, education and health.

The challenge:

Mobile Metrix signed a contract with a multinational consumer goods company to conduct a health and hygiene survey in communities in Rio de Janeiro and Recife. Given difficulties in the cash flow, it needed adequate funding to conduct the survey prior to its full funding arriving.

The solution:

SITAWI loaned R$ 100,000 to facilitate the project's implementation.

The impact:

The loan smoothed the implementation of the survey, employing young people from the communities to improve their employability, drawing attention to community health and hygiene needs and providing training in these areas for the local residents. http://www.mobilemetrix.org